COMMUNITY EVENTS
Seeking Centenarians for Fall Honors 2021
On behalf of the Government of Japan, the Consulate General of Japan in Los Angeles is currently seeking centenarians with Japanese citizenship or Japanese ancestry to be honored in the fall of this year.
Qualified individuals should be born between April 1, 1921 and March 31, 1922. Individuals with Japanese citizenship will receive a proclamation from the Prime Minister of Japan and a ceremonial silver cup (ginpai). Individuals with Japanese ancestry (but no Japanese citizenship) will receive a certificate from the Consul General.
All interested parties should send the following information to the Consulate General by May 13, 2020:
Basic information: Name, sex and birthday; Current address, telephone #.
Additional information required for individuals with Japanese citizenship: Photocopy of Japanese Passport; Information of Family Registration (Koseki-tohon)
Addiional information required for individuals with Japanese ancestry: Photocopy of Certificate of Naturalization or U.S. Birth Certificate April 20, 2021
Should you have any questions, please contact Consular Section of the Consulate General of Japan, (213) 617-6700, ext. 400/406 or ryoji@ls.mofa.go.jp (for Japanese citizen); somu@ls.mofa.go.jp (for Japanese ancestry).
CURRENT EXHIBITIONS
Letters from Santa Anita: Children's Thoughts on Internment
Clara Breed was a librarian with San Diego Public Library where she became good friends with many of the young Japanese Americans who visited the library. Many of them carried on a regular correspondence with her during their time in internment camps which provides an interesting insight into how these young people viewed their situation. Using the letters written to Clara Breed from her young friends in Santa Anita, this exhibition reveals their thoughts and opinions on internment in their own words.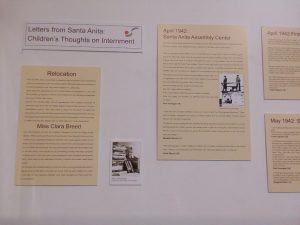 ---
Japanese Businesses in Downtown San Diego Prior to WWII
Before WWII, the area around Fifth and Island in downtown San Diego was the center of the Japanese business community. The map featured in this exhibition shows the location of the various businesses and the diversity of services they provided. To accompany the map are images of the various businesses and their owners and staff.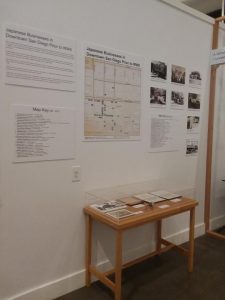 ---
A Window into History: Curiosities from our Collections
Currently on exhibit in our artifact exhibition space:
Forge and Anvil – used by the Oyama family in Chula Vista. 
Made In Camp – everyday items made by internees at Poston internment camp, Arizona