UPCOMING EVENTS
---
COMMUNITY EVENTS
---
SAN DIEGO RAMEN FESTIVAL 2022
Join the Japan Society of San Diego & Tijuana! They will have different types of ramen, all ready for you to try and slurp to your ramen delight!
Don't miss out the opportunity to purchase tickets NOW!
Thursday, November 10, 2022
Port Pavilion on Broadway Pier
1000 N Harbor Dr, San Diego, CA 92132
General Admission $40 6:00pm – 9:00pm
VIP ticket $120 – Only 21+ 5:00pm – 9:00pm
Get Tickets HERE for Ramen Festival!
For more details and updates, visit their website
---
PACIFIC RIM PARK FRIENDSHIP WALK
Sunday, November 20, 2022
Shelter Island, San Diego
Pacific Rim Park, a program of the Ilan-Lael Foundation, is an international peace effort started by artist James Hubbell more than 30 years ago that has created 7 art-filled parks along with lasting friendships around the Pacific Rim. The parks are dedicated to peaceful understanding and friendship among cultures.
On Sunday November 20th the event will begin at San Diego's Pearl of the Pacific PRP park to celebrate our PRP family and San Diego's diverse international community. The Ilan-Lael Foundation is sponsoring a walk along Shelter Island from 10am to 1pm along the beautiful waterfront Shoreline Park. The walk begins at James Hubbell's elegant Pacific Portal gazebo at the entrance of Shelter Island. Everyone will walk about one mile to Pearl of the Pacific park where there will be food, original artworks on display from around the Pacific,
and a special ceremony honoring the 65th anniversary of the San Diego-Yokohama Sister City Organization.
To learn more about the PRP FRIENDSHIP WALK event, Visit: ilanlaelfoundation.org/WALK
---
BIPOC History Ride
Celebrate the rich cultural history of San Diego by experiencing historic homes, buildings and landmarks that tell the legacy of Black, Indigenous, People of Color (BIPOC) in the community. This is a self-guided bike ride that can be done at any time. This event is a collaboration between BikeSD, CirculateSD, Pedal for Justice SD and the San Diego County Bicycle Coalition.
Find out more about the tour here, or go straight to the tour map here.
---
CURRENT EXHIBITIONS
A Window into History: Curiosities from our Collections
Currently on exhibit in our artifact exhibition space:
Fish Camp – items from the Fish Camp Kushimoto No Kyampu Archaeological Collection, 1925-1930, as well as items from our Fishing Collection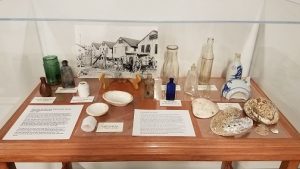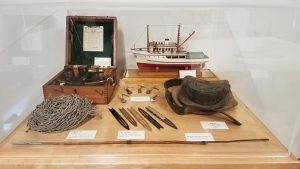 Art Items From Camp – bird pins, carvings, and other items made by internees at Poston internment camp, Arizona