COMMUNITY EVENTS
Clara E. Breed & the Japanese American Incarceration
JAHSSD is once again helping the San Diego Public Library create an exhibition and public programming which involves Clara Breed and her relationship with the local Japanese American community, plus her long career in library management in San Diego. The exhibit contains some items from the JAHSSD collection.
Upcoming events:
Saturday, October 2 at 2:00 pm: You can learn about JAHSSD member Jack Kubota's wartime experience living in Poston Camp One. This program will be conducted by Linda Canada, JAHSSD's former archivist, in an interview format.
Carlsbad resident Jack Kubota was born in Pasadena, California, but moved to the Imperial Valley when he was an infant.  His family had a trucking business, and he grew up and attended school in El Centro.  In 1942 when he was 13 years old, his family was forced to move to an internment camp at Poston, Arizona. Mr. Kubota joined the Navy after high school, and eventually graduated from the University of California, Berkeley with a degree in Civil Engineering.  Now in his 90s, he still works on engineering projects around San Diego County. You will have an opportunity to ask questions and talk with Jack at the end of the presentation.
You can register for this event through the San Diego Public Library: https://sandiego.librarymarket.com/events/one-mans-internment-story-jack-kubota
You can find a full list of upcoming events at the bottom of the exhibit page here: https://www.sandiego.gov/missbreed
BIPOC History Ride
Celebrate the rich cultural history of San Diego by experiencing historic homes, buildings and landmarks that tell the legacy of Black, Indigenous, People of Color (BIPOC) in the community. This is a self-guided bike ride that can be done at any time. This event is a collaboration between BikeSD, CirculateSD, Pedal for Justice SD and the San Diego County Bicycle Coalition.
Find out more about the tour here, or go straight to the tour map here.
---
CURRENT EXHIBITIONS
The Rebellious Miss Breed: San Diego Public Library and the Japanese American Incarceration
Gallery at San Diego Public Library: September 2021 – January 2022
This exhibit underscores the activism of Clara Breed, a San Diego Public Librarian, as she advocated on behalf of Japanese American children during and after wartime. SDPL worked with numerous community partners to create the exhibit, including the use of collection items from JAHSSD. From September through December, the library will be hosting a series of programs and events to raise awareness and encourage discussion of historical and contemporary issues faced by marginalized voices, especially within the Asian American and Pacific Islander (AAPI) community. You can find more information at www.sandiego.gov/missbreed.
---
A Window into History: Curiosities from our Collections
Currently on exhibit in our artifact exhibition space:
Fish Camp – items from the Fish Camp Kushimoto No Kyampu Archaeological Collection, 1925-1930, as well as items from our Fishing Collection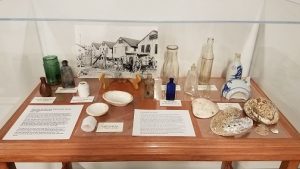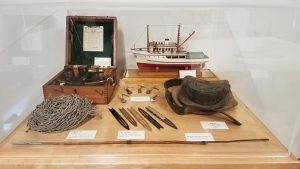 Art Items From Camp – bird pins, carvings, and other items made by internees at Poston internment camp, Arizona