UPCOMING EVENTS
---
COMMUNITY EVENTS
FIRST ANNUAL SOUTHERN CALIFORNIA ASIAN/PACIFIC ISLANDER FESTIVAL
Saturday April 29, 2023
10am – 5pm at the Oceanside Civic Center
UMEKE is a 501(c)3 organization dedicated to the preservation, perpetuation and education of Hawaiian culture. Their vision is to educate local communities through cross-cultural learning, working towards the equity and advancement of all marginalized and underserved populations. It is with that spirit that they would love to share the vision with their extended Asian & Pacific Islander culture. The SoCal API Festival will offer Art, Culture, Food, Music and Entertainment that will embrace the love of our Pacific region.
Find out more at www.apifestival.com
---
BIPOC History Ride
Celebrate the rich cultural history of San Diego by experiencing historic homes, buildings and landmarks that tell the legacy of Black, Indigenous, People of Color (BIPOC) in the community. This is a self-guided bike ride that can be done at any time. This event is a collaboration between BikeSD, CirculateSD, Pedal for Justice SD and the San Diego County Bicycle Coalition.
Find out more about the tour here, or go straight to the tour map here.
---
CURRENT EXHIBITIONS
A Window into History: Curiosities from our Collections
Currently on exhibit in our artifact exhibition space:
Fish Camp – items from the Fish Camp Kushimoto No Kyampu Archaeological Collection, 1925-1930, as well as items from our Fishing Collection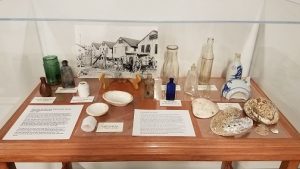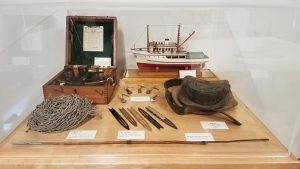 Art Items From Camp – bird pins, carvings, and other items made by internees at Poston internment camp, Arizona