Due to the current emergency situation, the JAHSSD office in Balboa Park  is not open for research visits.
The JAHSSD Gallery at the San Diego History Center is open

Friday, Saturday, and Sunday, 11am to 4pm.
---
UPCOMING EVENTS
Virtual Programs from Oceanside Public Library as part of One Book, One San Diego:
Panel Discussion with the Japanese Historical Society
Tuesday, September 29, 11:00 a.m.  
Linda Canada, Jack Kubota, and Kay Ochi of JAHSSD will participate in this one hour virtual event. A brief history of San Diego's Japanese American community will be followed by presentations from the panelists, detailing and comparing their experiences with those described by George Takei in his graphic novel: They Called Us Enemy
Artist Interview with Wendy Maruyama
Wednesday, October 7, 12:00 p.m.
Furniture maker, artist and educator Wendy Maruyama discussing her work on E.O. 9066: The Tag Project.
For more Information
"One Book, One San Diego is our region's premier literary program, presented in partnership between KPBS and over 80 public libraries, service organizations and educational institutions. Now in its 14th year, the purpose is to bring our community closer together through the shared experience of reading and discussing the same book." KPBS
2020 Selections – 
They Called Us Enemy by George Takei
Write to Me by Cynthia Grady and illustrated by Amiko Hirao
PUBLIC Virtual Kick Off Event with George Takei
KPBS presents a special VIRTUAL event with activist and actor George Takei, author of "They Called Us Enemy," the 2020 One Book, One San Diego selection. The program will also feature a performance by Genbu Daiko at the Japanese Friendship Garden Society of San Diego and an address by local historian Prof. Susan Hasegawa, followed by an interview with Mr. George Takei by KPBS Arts and Culture reporter, Beth Accomando.
---
Poston Virtual Pilgrimage
FREE online: October 3rd & 4th, 2020; 10.30 am – 12.30 pm PDT
The Poston Virtual Pilgrimage is an opportunity to learn more about the Poston incarceration camp, where over 17,000 Japanese Americans were imprisoned during WWII. A video of the current Poston site, preservation efforts, conversations with survivors and art and remembrances related to the camp will be featured.
The virtual pilgrimage is organized by the Poston Community Alliance.
CURRENT EXHIBITIONS  
JAHSSD Gallery at San Diego History Center:
Letters from Santa Anita: Children's Thoughts on Internment
Clara Breed was a librarian with San Diego Public Library where she became good friends with many of the young Japanese Americans who visited the library. Many of them carried on a regular correspondence with her during their time in internment camps which provides an interesting insight into how these young people viewed their situation. Using the letters written to Clara Breed from her young friends in Santa Anita, this exhibition reveals their thoughts and opinions on internment in their own words.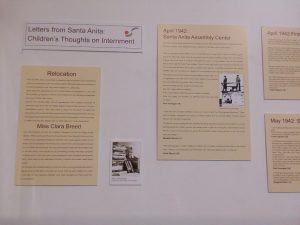 ---
Japanese Businesses in Downtown San Diego Prior to WWII
Before WWII, the area around Fifth and Island in downtown San Diego was the center of the Japanese business community. The map featured in this exhibition shows the location of the various businesses and the diversity of services they provided. To accompany the map are images of the various businesses and their owners and staff.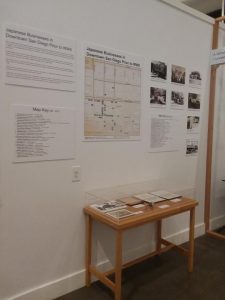 ---
A Window into History: Curiosities from our Collections
Currently on exhibit in our artifact exhibition space:
Forge and Anvil – used by the Oyama family in Chula Vista. 
Made In Camp – everyday items made by internees at Poston internment camp, Arizona                                                 
---
COMMUNITY EVENTS
Japan Society: AJ Cup Golf Tournament
Thursday, October 22, 2020 at Singing Hills Golf Resort , Willow Glen
(The tournament will be compliant with all COVID-19 rules and regulations)
For more information