UPCOMING EVENTS
JAHSSD Presents: Japanese American Community and the U.S. Constitution 
On Friday, September 23rd, 2022 from 10am – 11:30am Pacific, JAHSSD will be hosting our third virtual event in the series Remembrance, Redress & Reparation: Learning from the Past.
Register in advance for the webinar here:
https://us02web.zoom.us/webinar/register/WN_yPmX4gq-Rw2-c5RnqKuUZg
Presenters:
Matt Estes, Professor of History, Palomar College
Susan Hasegawa, Professor of History, San Diego City College
Kay Ochi, President, Japanese American Historical Society of San Diego and Current Co-Chair of Nikkei for Civil Rights & Redress 
This lecture/discussion will focus on the pre-World War II Japanese American community in San Diego and the constitutional (both state and federal) issues, laws and court decisions, which restricted the rights and freedoms of the community. Furthermore, the speakers will discuss constitutional issues regarding Japanese American incarceration during World War II and the fight for Redress and Reparations in the post-World War II period. Instructional and curriculum materials will also be disseminated to all participants. 
Co-Sponsors: City College History and Political Science Department, Japanese American Historical Society of San Diego (JAHSSD), California Humanities, and Palomar College Asian Pacific Alliance in Higher Education (APAHE)
---
OTAKU SMASH NIGHT at the Japanese Friendship Garden
The Japanese Friendship Garden and Fangaea Con invite you to OTAKU SMASH NIGHT
This 21+ ticketed event will take place on Friday, September 2, at the Japanese Friendship Garden.
OTAKU SMASH NIGHT welcomes all guests to express themselves at this inaugural event, shining a light on the art of Japanese pop-culture! There will be special performances by Genbu Daiko, Mochi Cafe, La Jolla Taiko and DJ Naisu!
Enter the cosplay contest and win incredible prizes including tickets to Fangaea 2023, special Japanese inspired prizes, and tickets to this fall's return of the San Diego Ramen Festival.
Cosplay is encouraged for all.
There will be food, sake and DJs performing live for you to dance! Come with your friends or make new ones at the first ever OTAKU SMASH NIGHT!!!
Click here to purchase tickets: https://www.niwa.org/otaku-smash-tickets
Setting Sun Sake Sake Day at the Japanese Friendship Garden
This year Sake Week will start with the grand opening event at the Japanese Friendship Garden on Saturday, October 1st, hosted by Setting Sun Sake as a celebration of community, craft, culture, and of course sake (1pm-7pm)! This event is for ages 21 and over. Please bring a valid ID. No minors or pets allowed.
For more information about the October 1st event at JFG, please email sdsakeday@gmail.com or kim@settingsunsake.com.
Vendors, participants, and all other details will be posted in the coming months on social media and the official SD Sake Week website.
Expected performances by Genbu Daiko taiko drumming, Kendo Bu, and more!
Follow on social media: IG- @sandiegosakeday, IG & FB- @settingsunsake @ settingsunsakemakase
Click here to purchase tickets.
---
COMMUNITY EVENTS
BIPOC History Ride
Celebrate the rich cultural history of San Diego by experiencing historic homes, buildings and landmarks that tell the legacy of Black, Indigenous, People of Color (BIPOC) in the community. This is a self-guided bike ride that can be done at any time. This event is a collaboration between BikeSD, CirculateSD, Pedal for Justice SD and the San Diego County Bicycle Coalition.
Find out more about the tour here, or go straight to the tour map here.
---
CURRENT EXHIBITIONS
A Window into History: Curiosities from our Collections
Currently on exhibit in our artifact exhibition space:
Fish Camp – items from the Fish Camp Kushimoto No Kyampu Archaeological Collection, 1925-1930, as well as items from our Fishing Collection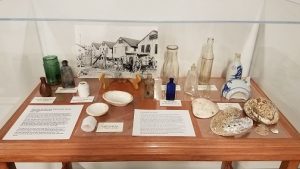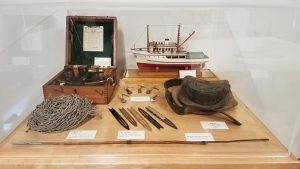 Art Items From Camp – bird pins, carvings, and other items made by internees at Poston internment camp, Arizona