Due to the current emergency situation, the JAHSSD office in Balboa Park and the JAHSSD Gallery at th

e San Diego History Center is closed.
We can still be reached by email: JAHSSD @sbcglobal.net
---
COMMUNITY EVENTS
What Does It Mean To Be Nikkei in 2021?
Presented by the Japanese American National Museum's Discover Nikkei project in partnership with Department of Asian and Asian American Studies of Loyola Marymount University.
There will be a virtual program on Saturday, February 6, from 3 p.m.–4:30 p.m. (PST). The project's lead researchers—Dr. Curtiss Takada Rooks and Dr. Lindsey Sasaki Kogasaka—will share an overview of the final report findings and what it means for the future of the global Nikkei community. Participants will then have the opportunity to participate in small group discussions around the question: "What does it mean to be Nikkei in 2021?"
This program is FREE, but registration is required.  More information
---
CURRENT EXHIBITIONS
Our Gallery is currently closed.  
JAHSSD Gallery at San Diego History Center:
Letters from Santa Anita: Children's Thoughts on Internment
Clara Breed was a librarian with San Diego Public Library where she became good friends with many of the young Japanese Americans who visited the library. Many of them carried on a regular correspondence with her during their time in internment camps which provides an interesting insight into how these young people viewed their situation. Using the letters written to Clara Breed from her young friends in Santa Anita, this exhibition reveals their thoughts and opinions on internment in their own words.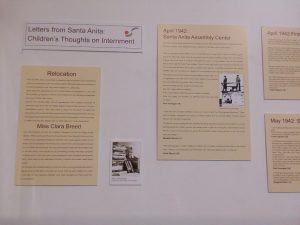 ---
Japanese Businesses in Downtown San Diego Prior to WWII
Before WWII, the area around Fifth and Island in downtown San Diego was the center of the Japanese business community. The map featured in this exhibition shows the location of the various businesses and the diversity of services they provided. To accompany the map are images of the various businesses and their owners and staff.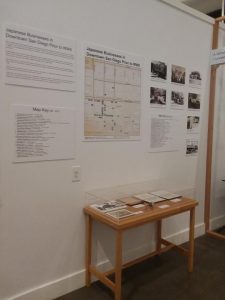 ---
A Window into History: Curiosities from our Collections
Currently on exhibit in our artifact exhibition space:
Forge and Anvil – used by the Oyama family in Chula Vista. 
Made In Camp – everyday items made by internees at Poston internment camp, Arizona