COMMUNITY EVENTS
JOIN JAHSSD this Asian American & Pacific Islander Heritage Month for the second program in the series Remembrance, Redress & Reparation: Learning from the Past:
Japanese Americans, World War II, and the Fight for Justice
with Matthew Estes, Professor of History, Palomar College
Susan Hasegawa, Professor of History, San Diego City College
and Kay Ochi, President, JAHSSD
Saturday, May 21 at 2:00pm Via Zoom
At 2:00pm we will screen the recorded May 6th program, and we invite you to stay on at 3:15pm to share your questions and reflections, and join us in community conversation.
Use this link to register: https://us02web.zoom.us/meeting/register/tZcsceivqjgpE9UZdHSep-2hFx8FofrNXjm6 
---
BIPOC History Ride
Celebrate the rich cultural history of San Diego by experiencing historic homes, buildings and landmarks that tell the legacy of Black, Indigenous, People of Color (BIPOC) in the community. This is a self-guided bike ride that can be done at any time. This event is a collaboration between BikeSD, CirculateSD, Pedal for Justice SD and the San Diego County Bicycle Coalition.
Find out more about the tour here, or go straight to the tour map here.
---
CURRENT EXHIBITIONS
A Window into History: Curiosities from our Collections
Currently on exhibit in our artifact exhibition space:
Fish Camp – items from the Fish Camp Kushimoto No Kyampu Archaeological Collection, 1925-1930, as well as items from our Fishing Collection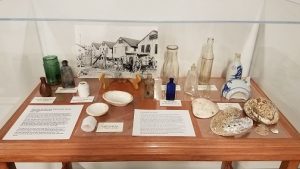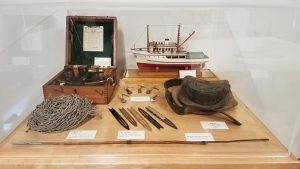 Art Items From Camp – bird pins, carvings, and other items made by internees at Poston internment camp, Arizona